Apps
Download GCAM Nikita 2.0 Mod APK Latest Version
Gcam is a Google Camera Port that has many features such as Night Sight, Astrophotography, HDR+, Photobooth, Photo-Sphere, Portrait Mode, Motion Photos, Panorama that can be found on Google Pixel smartphones.
Users can usually achieve superior photo quality with the Google Camera app on some smartphones. For shooting in low-light conditions, most users find GCam better than their phone's built-in camera app.
However, this app is exclusive to Google Pixel smartphones. So, other than those smartphones, we cannot install the Google Camera app.
Fortunately, many developers can modify the Google Camera app so that it can be used on non-Pixel phones, there are many modders who still port the latest version of Gcam such as Nikita, Shamim, BSG, Arnova, Hasli, Wichaya, Greatness, BigKaka, etc.
What is GCAM Nikita 2.0?
Gcam Nikita 2.0 is a Google Camera application ported by a GCAM Hub member named Nikita. Many users love this app for its stability and compatibility with many Android smartphones.
This Gcam generally works well on smartphones that use Qualcomm Snapdragon chipsets. The app also supports Mediatek chips but some features may not work. However, your phone must have full CameraAPI2 access and use a 64-bit Android operating system.
Features of GCAM Nikita
Google Camera mod Nikita has almost the same features as other Gcam apps. Well, if you want to know what features are embedded in this camera application, check out the following info.
1. Super Resolution Zoom
Super Res Zoom is an innovative feature in Google Camera that overcomes traditional digital zoom methods. It is capable of combining frames into one high-resolution image, cropping from a single image, and capturing multiple frames of a scene. We can get detailed and sharp images even when zooming in or out.
2. Night Sight
Night Sight is one of the most popular and best GCAM features among other camera apps. This Night Mode feature basically uses AI technology to take detailed photos even in low light conditions.
In addition, we can also utilize this feature in Portrait Mode, making it possible to take blurred backgrounds even in very low light.
3. Photo Sphere
With this feature enabled, you can take 360-degree Street View-style photos. You can do this by holding your Android phone and rotating it. The Photo Sphere feature is similar to the process of taking a panoramic photo, except that you have to take more photos to create the effect.
To use it, simply tap Photo Sphere, then tap the Shutter button, then point the viewfinder and slowly rotate it in all directions, left and right, up and down. Once done, the Camera app will take a few seconds to a few minutes to stitch the images together.
4. Astrophotography
This feature allows users to take photos of the night sky, including stars and other celestial objects using the phone's camera. To get the perfect photo, it is best to use a tripod or if you don't have one, hold the phone for a few minutes and then turn on Night Sight mode so that the phone automatically goes into Astrophotography mode.
5. HDR+
The HDR+ feature works by taking multiple shots at different lighting, and then combining the images into one photo with details in the darker areas of the shot without overexposing the brightest areas. To activate HDR mode, tap the overflow button, and then switch to the HDR+ setting.
6. Portrait
Almost all smartphones have this feature, the Portrait feature serves to blur the background of the photo while leaving the focal point. Thus something in the foreground will remain sharp and the background will be blurred, giving the photo a greater sense of depth while focusing the eye on the subject.
7. Face Retouching
Almost everyone wants this feature. Today, there are many apps for photo filters and face retouching. The latest smartphones even have Beauty filters. These filters offer many options, such as skin smoothing, acne, dermatology, and more.
Nikita has released several versions of GCAM and most recently version 8.2. However, the most stable and best-compatible version is version 7.4.104 v2.0.
Download GCAM Nikita 2.0
Nikita has released several versions of GCAM and most recently version 8.2. However, the most stable and best-compatible version is version 7.4.104 v2.0.
Notes: The three Nikita GCAMs below, are not compatible with chip Unisoc, Exynos and Android 32-bit or Android Go.
GCam Nikita 7.4 2.0 Universal
GCam Nikita 7.4.104 2.0 Samsung
GCam Nikita 8.2.300 v1.8 (Latest)
This latest version is less recommended because it is not stable and many phones do not support it. However, of course you can try it, because in Gcam 8.2 there are many new features that you will not find in version 7.4.
How to Install GCAM Nikita 2.0 on Android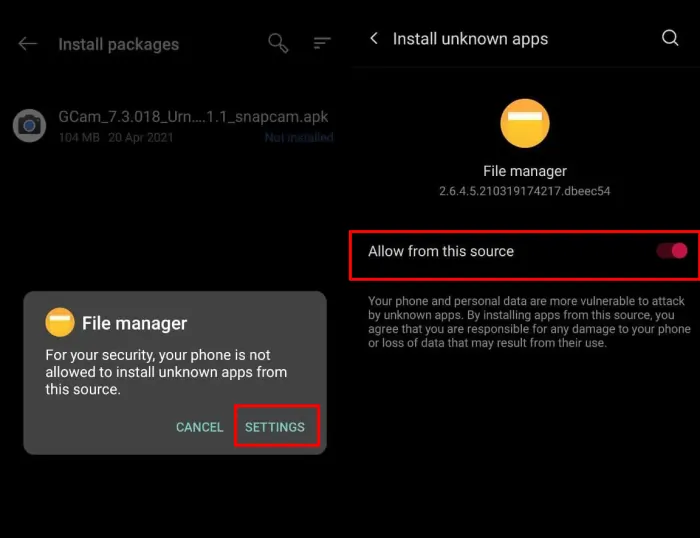 If you've finished downloading, the next step is to install it. Here's how if you don't know the steps.
Open the File Manager app.
Then navigate to Internal Storage folder and select Download.
Find and install the Gcam file already stored on the phone.
If the "your phone is not allowed to install apps from this sources" popup appears, tap Settings and enable Allow apps from this source.
Now, try installing again and wait for it to finish.
Now, the Gcam Nikita app is installed on your Android phone. When you first open it, there is usually a request for permissions, please allow all requested access. After that, please use this gcam to take pictures outdoors or indoors.
If the preview photo cannot be opened, you must install Google Photo app from the Play Store.
How to Install Nikita GCAM Config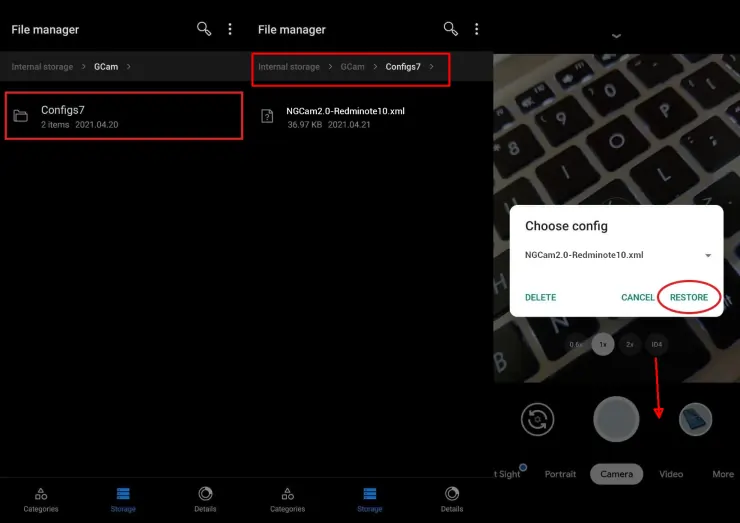 Download the config according to Nikita's GCAM version below:
Once the configuration is downloaded, create a new folder called GCam in the Internal storage.
Then open the GCam folder and then create a folder according to the Gcam version, for example: Configs7 or Configs8.
Then, copy and paste the config xml file you downloaded into the Configs folder.
Open Gcam and double-tap on the empty area beside the shutter button.
Select config and then tap Restore.
Google Camera will restart and after that, you can try taking pictures and compare the results. If you don't like the results of the preset, please change the other config like the method above.