How To Reset Huawei Y6 Pro 2019 To Factory Settings
You can regularly restore your Huawei Y6 Pro 2019 to factory settings for troubleshooting some crashed and issues, or to wipe out your personal data from phone, or to boost the performance. Using this guide, you'll learn how to reset Huawei Y6 Pro 2019.
The Huawei Y6 Pro 2019 comes with a thin bezel provided at both side. It has a 6.09inch IPS LCD display having a resolution of 720 x 1560 pixels and a pixel density of 282 ppi. The screen has an aspect ratio of 19.5:9 that will enhance the appearance of the display making videos and gaming look more adorable.
The smartphone is equipped with the Quad-Core processor having a clock speed of 2 GHz. The base of the processor is provided by the Helio A22 (MT6761) chipset, together which will give smooth performance. It has the IMG PowerVR GE-class GPU for handling graphics. The multi-task of the device is looked after by the 3GB RAM that will render smooth performance.
3 Methods to Reset Huawei Y6 Pro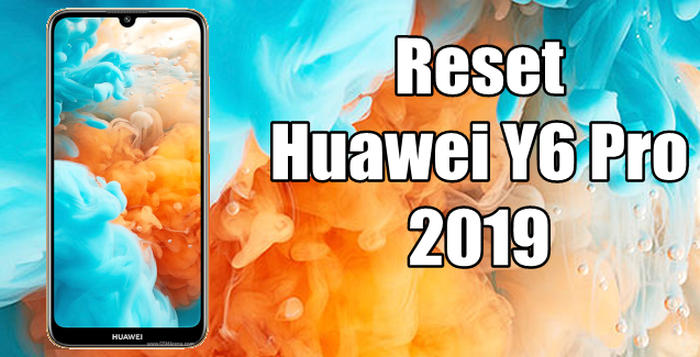 You can factory reset your Huawei Y6 Pro 2019 to its factory settings if your phone is having serious malfunctions or you want to erase it. While oftentimes a factory reset will solve any issues you're having with your Huawei Y6 Pro 2019, such as slow response or screen freezing, serious technical issues may require you to hard reset in the hope of restoring its ability to operate properly.
Before doing the reset, you should know that Huawei Y6 Pro factory reset is an irreversible operation, during which the internal memory of the smartphone is cleared. If you store important files on your phone, be sure to copy them to another device.
Factory Reset via Settings
One of the reset options is located in the settings menu, you can use this feature to restore factory settings. Here's how to factory reset Huawei Y6 Pro.
In the Home screen tap Settings.
In the Settings screen, tap System.
In the System screen, tap Reset.
In the Reset screen, tap Factory data reset.
At the bottom of the screen tap the RESET PHONE option.
If prompted, enter your device PIN/password/pattern. Touch NEXT.
Finally tap RESET PHONE.
After your Huawei Y6 Pro 2019 reset, you see the Welcome screen and you can set up your phone.
Hard reset via Recovery
As you may know, every Android device has a Recovery mode, but it's different on Huawei phones. Therefore, it is called recovery mode, so you can restore your Y6 Pro in case of any problems with the smartphone, including an operating system failure.
Shut down your Huawei Y6 Pro 2019 completely by pressing the Power button.
Push "Volume Up" and "Power" button for a couple of seconds.
Let go of all keys when Huawei eRecovery Mode shows up.
Choose "Wipe data/Factory reset".
You need to confirm your action once more by choosing "Wipe data"
Finally, choose "Reboot system".
Reset Screen Lock via Find My Device
Also, you can use another method to restore factory settings on Huawei Y6 Pro. You will need a computer or another smartphone.
Here you will use the Google Find My Device service, so make sure your smartphone is still connected to internet access and a google account.
Log into https://www.google.com/android/find with your Google Account ID and password.
Select the Huawei Y6 Pro 2019 from the menu on the left.
Select the Erase option from below the device information.
Select the Erase Device button on the popup.
Enter your Google Account password to confirm and send the task to your Huawei Y6 Pro 2019.
Bottomline
The Huawei Y6 Pro 2019 is an excellent phone that keeps up with the benchmark set by the Finnish company with its previous models. It probably has all the feature in store. Right from the processing front to the storage capacity, it has all the bases covered. Also, it has an excellent pair of cameras which perform well in terms of photography and vidoegraphy.
I hope that this article will help you in solving any of the problems you might be facing with the smartphone. Check out some tips and tricks such as how to update Huawei Y6 Pro 2019.