How To Hard Reset Oppo K1 Screen Lock, Recovery
Factory resets are the best solution for many Android issues. If your Oppo K1 is far slower than it once was, you have a malware infection that won't go away or plan to sell your phone, a factory reset is the most convenient solution. Let's see how we can reset Oppo K1.
The Oppo K1 comes wrapped in a cool aluminium frame and features a 6.4 Inch FHD+ display with a resolution 1080 x 2340 pixels at 403 ppi. To ensure that the users have access to uninterrupted entertainment, it is powered by a 3500 mAh, li-ion battery.
It has an Octa-Core 2.2 GHz processor coupled with 4GB of RAM and runs on Android 8.1 Oreo operating system. It has an internal memory of 64GB and can be expanded to up to 256GB to store ample songs, videos, photos etc.
A reset is recommended before giving away or selling the device, and in some cases for troubleshooting. You can do a factory reset or a hard reset.
The former can be done by simply accessing the Oppo phone's settings. Sometimes that's just not possible. If the phone isn't working or for some reason you can't access the settings, you can go ahead and perform a hard reset using the hardware buttons.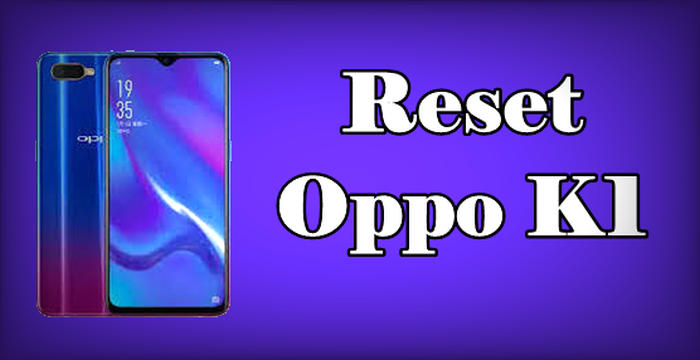 Factory reset Oppo K1
Go into the Settings.
Tap Additional settings.
Tap on Backup & reset.
Tap on Erase all data (factory data reset).
Confirm you understand that all data will be erased by tapping on Erase Data.
Your Oppo K1 will restart and begin the factory data reset.
Reset Screen Lock Oppo K1
Open Find My Device and then log in with your Google Account and password.
Select the Oppo K1 from the top left hand corner of the menu.
Choose the Erase option from the action menu.
Select Erase Device to confirm.
Enter your Google Account password to reset the Oppo K1.
Hard reset Oppo K1 via Recovery
Ensure that the Oppo K1 is powered off.
Press and hold the Power key and Volume Down button at the same time.
Release them when you see the OPPO logo.
Then you will see the ColorOS recovery menu.
Scroll to Wipe data.
Press the Wipe data (Keep SMS, Contacts and Photos) button.
Scroll to OK.
Press the Reboot menu.
The Oppo K1 will now wipe all contents.
This process will erase all your phone information; essentially returning it to the way it was the day you purchased it. All of your contacts, pictures, messages, apps, everything will be deleted. This seems like the appropriate time to remind you to back up your phone.
Wrapping Up
The Oppo K1 is a decent smartphone that has a mid-range price tag. The device offers good performance and supports high-end games and extensive multitasking. The primary camera is also up to the mark. However, a better capacity of storage would have made it a perfect option.
However, no matter how great the device is, potential problems are always on. When your device is going through a tough time, it's usually better to reset.