Oppo R15 Factory, Hard And Reset Screen Lock
In this tutorial you will find detailed instructions on how you can reset Oppo R15 to its original configuration by using factory and hard reset feature.
The Oppo R15 is powered by an Octa-Core processor setup 4x 2.00GHz ARM Cortex A73 + 4x 2.00GHz ARM Cortex A53 seated on Helio P60 along with a 6GB RAM. The graphics are powered by ARM Mali G72MP3. It runs on the latest version of Android operating system Android 8.1 Oreo.
The Oppo R15 has a stunning Oled bezel-less display with a notch over the 6.28 inches screen. The device has got an amazing resolution of 1080 x 2280 pixels with a density of 402 PPI. The Oppo R15 is provided with 3450 mAh Li-ion battery, which gives a decent battery backup to the users to perform all the tasks.
3 Effective Methods to Reset Oppo R15 to Solve Various Problems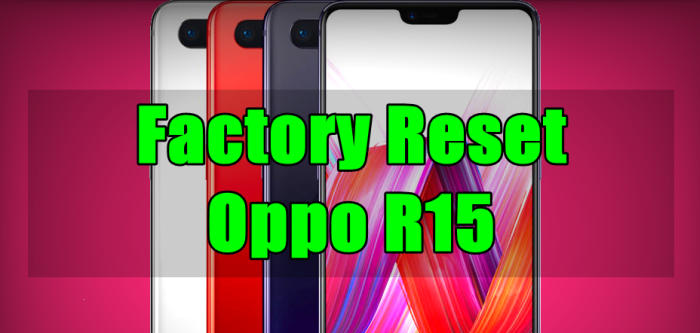 Oppo users really like their Oppo R15, if a Oppo user has a problem, usually just restart it. However, if it's still not normal after you force a restart, then you are forced to do a factory reset.
A factory reset allows you to totally wipe your device so you'll sell it on or provides it to someone. Plus, it also can be useful if you're troubleshooting some issues together with your device.
Before you do the reset, make sure to back up your personal data, so that you don't lose it all. Get a start fresh by performing a factory and hard reset.
1.Hard Reset
If your Oppo smartphone has a problem unable to enter the home screen which is commonly known as a bootloop, you are forced to do a hard reset via recovery mode.
Turn off your Oppo R15 and wait a few seconds.
Press and hold the Power key and Volume Down button at the same time.
Release them when you see the OPPO logo.
Then you will see the ColorOS recovery menu.
Scroll to Wipe data.
Press the Wipe data (Keep SMS, Contacts and Photos) button.
Scroll to OK.
Press the Reboot menu.
The Oppo R15 will now wipe all contents.
2.Factory Reset via Settings
Reset via the settings menu is useful for erasing all the data stored on your R15. If you intend to sell or give this phone to someone else, so that your data is not misused, please use this reset option.
Go into the Settings.
Tap Additional settings.
Tap on Backup & reset.
Tap on Erase all data (factory data reset).
Confirm you understand that all data will be erased by tapping on Erase Data.
Your Oppo R15 will restart and begin the factory data reset.
3.Reset Screen Lock
Meanwhile, to experience problems forgetting your pattern lock or PIN, you can try using the Google Find My Device service. Apart from having a feature to track the location of a lost Android device, this service also has a feature to perform a remote reset.
However, there are conditions, where your Oppo R15 must be connected to internet access and still linked to a Google account.
Open Find My Device and then log in with your Google Account and password.
Select the Oppo R15 from the top left hand corner of the menu.
Choose the Erase option from the action menu.
Select Erase Device to confirm.
Enter your Google Account password to reset the Oppo R15.
Final Thought
The Oppo R15 is a well-equipped mid-range phone with interesting features. The processor is well enough for the operation task. In terms of storage, the smartphone has great storage capacity. The mammoth camera specifications will surely impress you with its unparallel image productivity.
Does your Oppo R15 have a problem you've never seen mentioned? Share it in the comments below and I'm sure an answer can be found. There isn't a problem the phone has that can't be solved one way or another.