How to Use System Cloner in Realme
Various services can now be accessed through the smartphone screen, resulting in more and more applications that we install for various purposes.
The complete facilities on smartphones make our work easier, but it is very important to manage the contents of smartphones for safety and comfort. From sorting apps and deleting unused ones, disabling unnecessary notifications, and grouping apps according to categories.
Devices running Realme UI version 2.0 based on Android 11 and above have a suite of privacy features, including Hide apps, App lock, Private safe, Kid space, App Cloner and System cloner that allow users to create a second system. So how to utilize the system cloner feature?
How to Use System Cloner in Realme
To activate the system clone feature is very easy, you can follow the steps below.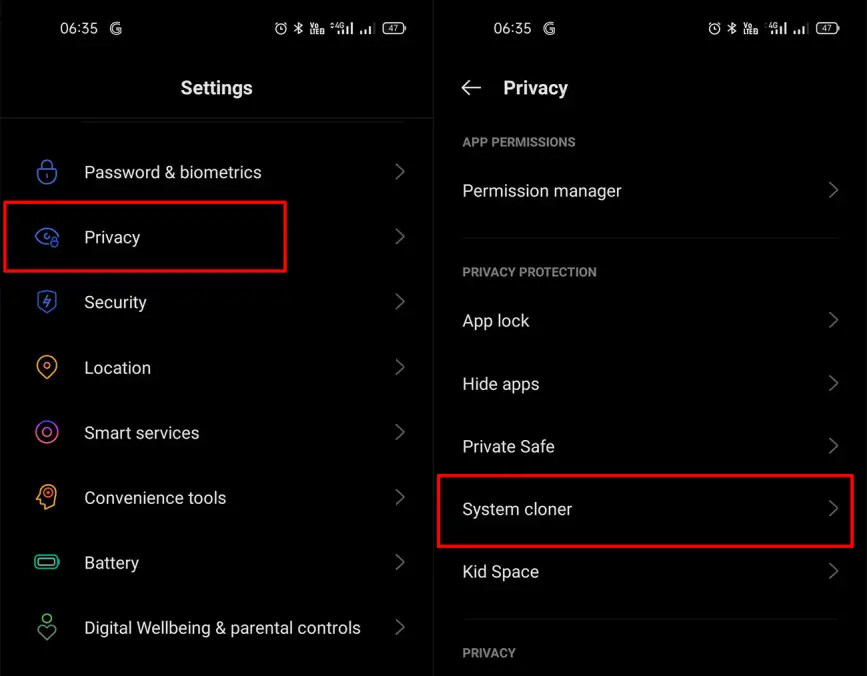 1.Activate System Cloner
Open your Realme phone and go to Settings.
Scroll down and tap Privacy.
In the privacy protection option select System Cloner.
Then enter the main system password and create a new password for the second system.
2.Enroll Fingerprint
The next step is to register fingerprints, because I have used the right thumb for the main system, then for the second system I use the right thumb left. In addition to security, this is also useful for entering and exiting or switching between systems using the fingerprints we have registered without the need to restart.
Another option is to register both thumbs for the primary system and use the right or left index finger for the secondary system. Based on my experience, sometimes I accidentally enter the second system with my left thumb, so I choose to enroll the index finger.
3.Application Cloning
After the second system is established, just like a new smartphone we need to make various preparations. Starting from logging into the Google account and cloning the various applications needed. This second system is separate from the main system, except for the history of phone calls and SMS messages.
There are many scenarios of utilizing the clone system, for example in the main system you want to emphasize productivity and separate entertainment applications such as games, social media, and movie streaming services to the second system. With the hope that you can be more productive and less distracted.
Personally, I utilize the system clone feature in Realme 9 add a layer of security. On this second system, I specialize in placing sensitive applications such as banking, digital wallets, e-commerce, exchange platforms, and so on.
Also, for those of you who manage multiple social media accounts or have multiple online stores. Thanks to Realme's clone system feature, you can log in with more accounts. The clone system offers you the convenience of having two smartphones in one hand, instead of having to handle two devices at once.
The Realme 9 is a feature-rich mid-range smartphone. I've also previously shared my experience watching Netflix movies in HD quality and discussed the memory expansion technology that allows you to virtually expand your RAM capacity up to a total of 13GB.
Source: Realme Community & Sukakepo