How To Reset Samsung A8 (2015 / 2016) Data And Screen Lock
Reset Samsung Galaxy A8 (2016) returns your smartphone to the same state it was in when it rolled off the assembly line. It will remove files and apps you've created and installed, delete data, screen lock, junk files and return settings to their defaults.
The Samsung Galaxy A8 (2016) features a 5.7 inches FHD Super Amoled display which exhibits a screen resolution of 1080 x 1920 pixels accompanied with a pixel density of 386 ppi.
The performance of the device is driven by Octa-Core 4×2.1 GHz ARM Cortex A57 +4×1.5 GHz ARM Cortex A53 processor mated to a 3GB RAM to take care of the multitasking needs. Additionality, an ARM Mali-T760MP8 GPU is present which to a great extent manages the graphical requirements. A key aspect of the processing configuration of the device is the inclusion of Exynos 7 Octa 7420 chipset which adds to the performance level of the device.
Before you can even begin to think about giving your Samsung Galaxy A8 (2016) to someone else, you need to take some time to wipe and reset it to factory settings. Doing so will ensure that nobody has access to the treasure trove of personal information we all keep on our phones. This also works if your Samsung Galaxy A8 (2016) randomly shuts off and won't turn back on.
Reset Screen Lock Samsung A8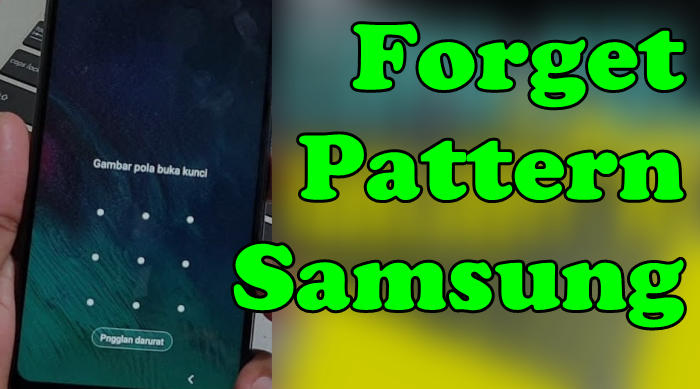 There are several ways that you can reset Samsung A8 after you forgot your password. You can reset using google account or perform a factory reset.
Log into Find My Device with your Google Account ID and password.
Choose the Samsung Galaxy A8 (2016) from the top left hand corner of the menu.
Select the 'Erase Data' option from the action menu.
Select "Erase Device" to confirm.
Enter your Google Account password to reset the phone.
Hard reset Samsung A8 from Recovery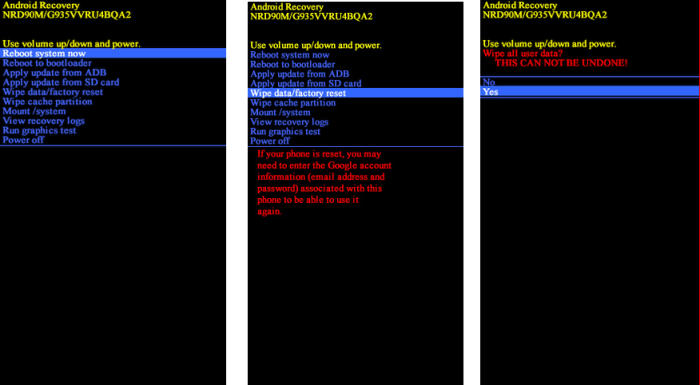 If you are not connected to a Google account so you cannot reset via the Find My Device service, another method you can do is hard reset from recovery.
Shut down your Samsung Galaxy A8 (2016) completely by pressing the Power button.
Press and hold the Volume Up key and the Home key, then press and hold the Power key.
When the Android logo displays, release all keys.
Installing system update will show for about 30 – 60 seconds, then No command before showing the Android system recovery menu options.
Press the Volume down key several times to highlight Wipe data / factory reset.
Press Power button to select.
Press the Volume down key to highlight YES and press the Power key to select.
When the Factory Reset is complete, Reboot system now is highlighted.
Press the Power key to restart the device.
Factory reset Samsung A8 via Settings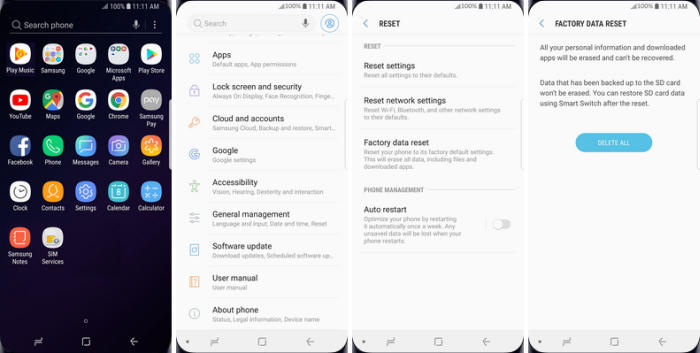 For A8 users who want to sell this phone, the easiest way to clean data and files is to reset via the settings menu.
Go to the Home screen and choose "Apps".
Choose 'Settings'.
Scroll down Choose ˊFactory data resetˋ.
Choose "RESET DEVICE".
Choose "DELETE ALL".
All data and settings saved on the phone will be deleted.
The Samsung Galaxy A8 (2016) will automatically reset and reboot.
Last Words
The Samsung Galaxy A8 is a flagship and it successfully justifies the title. The device is not just impressive in terms of design, but the user interface, processing power and everything else leave you mesmerised. This phone is an ideal choice especially for camera lovers who love to capture high quality sharp images every now and then. Overall, the new Samsung is a device worth buying.