Three Ways To Reset Samsung Galaxy A10s Hard, Factory and Remotely Reset
Factory reset Galaxy A10s returns your phone to the same state it was in when it rolled off the assembly line. It will remove files and apps you've created and installed, delete cache, junk files and return settings to their defaults. Here's how to factory reset your Samsung Galaxy A10s.
Samsung Galaxy A10s flaunts a superb quality TFT display that comes with a screen resolution of 720 x 1560 pixels along with a pixel density of 277 ppi. It has been provided with Corning Gorilla Glass protection that keeps it away from bruises and spots.
Under its roof, it has integrated strong internal hardware that provides the best performance in all fields like gaming and multitasking. While the Helio P22 MT6762 Plus handles the overall operations, the Octa-Core processor setup ARM Cortex A53 delivers fast performance. It further has a PowerVR GE8320 GPU that gives good graphical effects. The 2GB RAM is also included for lag-free user-experience.
When your Samsung A10s is starting to show signs of slowing down, or are restarting for no reason at all, or some other issues, you might want to do a factory reset if restarting doesn't work. If your device is still not working, your last option is to do a hard reset.
Performing a reset will permanently delete all user data on the smartphone. Be sure to back up your data before performing a Factory or Hard Reset.
Factory reset Samsung A10s via Settings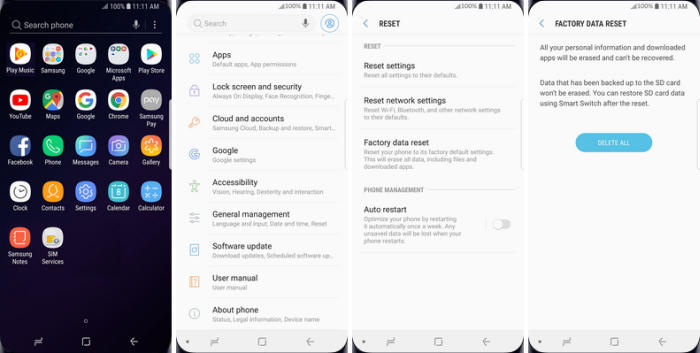 All mobile devices are equipped with a reset feature which makes it easier to restore factory settings. One of the reset features can be found in the settings menu, although sometimes the location is different in each Android version.
Android Pie
Slide your finger downwards starting from the top of the screen.
Press the 'Settings' icon.
Tap ˊGeneral managementˋ.
Press ˊResetˋ.
Touch 'Factory data reset'.
Press 'RESET'.
Tap ˊDELETE ALLˋ. Wait a moment while the factory default settings are restored.
Follow the instructions on the screen to set up your Galaxy A10s and prepare it for use.
Android 10
Head into your ˊSettingsˋ and scroll down the page to 'General management'.
Tap on 'Reset'.
Touch ˊFactory data resetˋ.
Scroll down the page and select ˊResetˋ.
This is the final step, so be sure that you want to go through with it. If you are, then tap "DELETE ALL".
The Samsung A10s will reset and reboot.
Reset Lock Screen Pin / Pattern / Password Samsung A10s
If you forgot your Samsung Galaxy A10s lock screen fingerprint, pin, pattern and password, you can easily to bypass lock screen remotely by Find My Mobile / Device service on PC.
In order for Find My Device to help you reset your phone screen lock, your smartphone needs to be turned on, connected to a Google or Samsung Account and the internet.
Reset Lock Screen with Google Find My Device
Go to Find My Device and then log in with your Google email and password.
Choose the Samsung Galaxy A10s from the top left hand corner of the menu.
Select the 'Erase Data' option from the action menu.
Select "Erase Device" to confirm.
Enter your Google Account password to reset the phone.
Unlock Screen via Samsung Find My Mobile
Open Find My Mobile and then sign in with your Samsung Account ID and password.
Choose the Samsung Galaxy A10s from the menu on the left.
Choose the 'Erase Device' option from below the device information.
Choose the "Erase" button on the popup.
Enter your Samsung Account password to confirm and send the task to your phone.
Hard reset Samsung A10s via Recovery
For users who experience bootloop problems unable to enter the home screen, you can reset it via recovery mode. If you are ready, you can proceed to the steps below!
Shut down your Samsung A10s completely by pressing the Power button.
Press and hold the Power key and Volume Up button at the same time.
Release them when you see the Samsung logo.
Then you will see the Android system recovery menu.
Scroll to wipe data / factory reset by pressing the Volume down button.
Press the Power button.
Scroll to Yes by pressing the Volume down button.
Press the Power button.
The phone will now wipe all contents.
Bottomline
The Samsung A10s comes with the entry-level price tag that has many good features. The device delivers a good performance, nice battery backup and good cameras. The internal storage could have been better but considering the budget, it is a good option to go for.
Most of the problems that the Samsung Galaxy A10s has, although not listed above, can usually be fixed by reset. Check out some tips and tricks such as how to bypass google account on Samsung Galaxy A10s, we will publish it soon.