3 Ways To Reset Samsung Galaxy M10 / M10s Lock Screen, Hard and Factory Reset
If you don't think your Samsung Galaxy M10 is running as well as it should be, or you're getting worrying error messages, it might be time to reset your phone to its factory settings. Here's how to hard and factory reset your Galaxy M10.
The Galaxy M10 gives a good visual experience with the help of a 6.22-inch TFT display having an HD+ screen resolution with 270 pixel density. It comes with a 19:9 aspect ratio over the bezel-less screen that makes it look more stylish.
The device has been packed with an Octa-Core processor that runs at a speed of 1.6 GHz and is seated upon Exynos 7 Octa 7870. It is further assisted by a 3GB ram and ARM Mali-T830 GPU for smooth gaming and multitasking. For the storage, it is provided with a 32GB inbuilt space that can keep ample files and data of the users.
The Samsung M10 is a great device for use on the move or when you need to do some light computing. If your device doesn't work properly, or you just want it to be resold, the process is simple. This is how to factory reset your phone.
All your Samsung Galaxy M10 data will be deleted after resetting your phone, which is why you should make a complete backup of your phone.
Hard Reset Samsung M10/M10s via Recovery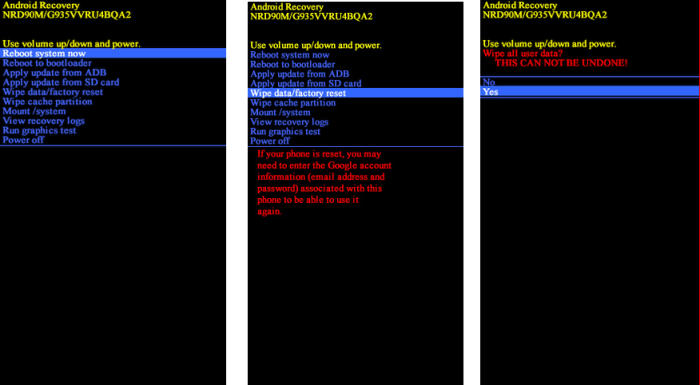 If your Samsung Galaxy M10 boots loops or gets stuck on the logo, see the instructions for resetting your phone from the Android system recovery menu.
Turn off your Samsung M10 and wait a few seconds.
If the phone cannot be turned off, let the battery drain until the phone turns off, then charge the phone for 30 minutes and unplug any USB or power cables from the phone.
Hold down the Power key for a few seconds and tap restart two times.
Wait until the SAMSUNG Galaxy logo shows up push Volume Up and Power button for a couple of seconds.
Let go of all keys when Recovery Mode shows up.
Choose wipe data/factory reset. Use Volume buttons to scroll down and the Power key to confirm.
Select Yes from the menu. Press the Power key.
If Recovery Mode appears, choose reboot system now by using the Power button.
Unlock Screen Pin / Pattern / Password Samsung Samsung M10/M10s
If you forgot your Galaxy M10 lock screen pin, pattern, password, and fingerprint, you can easily to bypass lock screen remotely by Find My Mobile / Device service on PC.
In order for Find My Device to help you reset your phone screen lock, your smartphone needs to be turned on, connected to a Google or Samsung Account and the internet.
Reset Lock Screen use Google Find My Device
Visit Find My Device and then log in with your Google Account and password.
Select the Samsung Galaxy M10 from the top left hand corner of the menu.
Select the ˊErase Dataˋ option from the action menu.
Select 'Erase Device' to confirm.
Enter your Google Account password to reset the phone.
Unlock Screen via Samsung Find My Mobile
Go to https://findmymobile.samsung.com and then log in with your Samsung Account ID and password.
Select the Samsung Galaxy M10 from the menu on the left.
Choose the 'Erase Device' option from below the device information.
Select the ˊEraseˋ button on the popup.
Enter your Samsung Account password to confirm and send the task to your phone.
Factory reset Samsung M10/M10s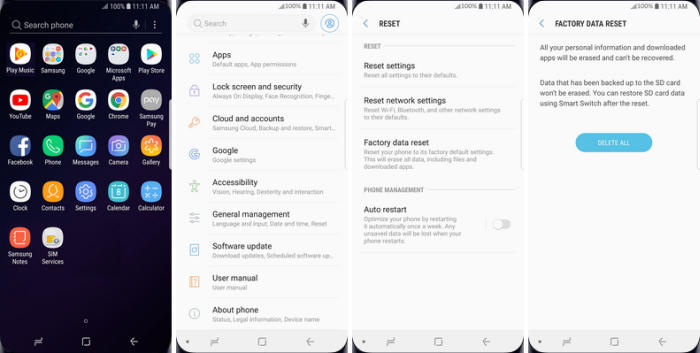 You can use factory reset in following cases; before selling smartphone or smartphone began to work slowly or malfunction.
Android Pie
Slide your finger downwards starting from the top of the screen.
Press the ˊSettingsˋ icon.
Press "General management".
Press ˊResetˋ.
Press 'Factory data reset'.
Touch ˊRESETˋ.
Tap ˊDELETE ALLˋ. Wait a moment while the factory default settings are restored.
Follow the instructions on the screen to set up your Samsung Galaxy M10 and prepare it for use.
Android 10
Head into your ˊSettingsˋ and scroll down the page to 'General management'.
Tap on ˊResetˋ.
Tap "Factory data reset".
Scroll down the page and select "Reset".
This is the final step, so be sure that you want to go through with it. If you are, then tap 'DELETE ALL'.
The Samsung Galaxy M10 will reset and reboot.
Wrapping Up
The Samsung M10 is a powerful phablet that provides seamless performance. Moreover, the device is loaded with some spectacular features, which takes your smartphone user experience to the next level. The configuration it offers is currently available in other phones even at much low price tag, but yet it would be a great choice for brilliant cameras and the performance it gives are beyond satisfaction.
Does your Samsung Galaxy M10 have a problem you've never seen mentioned? Share it in the comments below and I'm sure an answer can be found. There isn't a problem the device has that can't be solved one way or another.