How To Change Emoji and Font In Huawei P20
The Way to Change Font Style On Huawei P20 EMUI 9.0 Android 9.0 – In this article will give you a step-by-step procedure on how to change or adjust the fonts and icon sizes on your Huawei P20 Smartphone.
The Huawei P20 features a powerful configuration which outputs seamless performance. The handset is loaded with 4GB of RAM and a 2.4 GHz Octa-Core processor seated in a Huawei HiSilicon KIRIN 970 chipset. Apart from these, an ARM Mali G72 MP12 GPU takes care of the graphical needs of the system.
The Huawei P20 flaunts a 5.8-inch LCD IPS display, which adopts a completely bezel-less design. The display comes with a screen resolution of 1080 x 2244 pixels and a density of 428 ppi, which results in a brilliant outdoor visibility.
If you have Huawei P20 with EMUI 9.0 and want to customize your font style but you don't know how to change without buy font so today we want to share this content.
How to Change Font Style in Huawei P20 via Themes Manager Huawei
The Huawei P20 continues with EMUI 9.0 which runs on top of Android 9.0. The UI is now more minimalistic in nature and looks refined as compared to its previous versions.
EMUI is Huawei's proprietary front touch user interface. The UI offers a higher degree of personalization in tow with the experience because there are various themes to choose from that change the looks of the interface.
Download and install Themes Manager for Huawei P20 from Google Play Store.
Open the app and select Fonts, in this option you can find list of fonts compatible with Huawei P20.
Choose one preferred font and next, click Downloaded! Click to install.
Once the font installed, Go to Me/Mine and apply the font style.
How to Change Font And Emoji in Huawei P20 via zFont App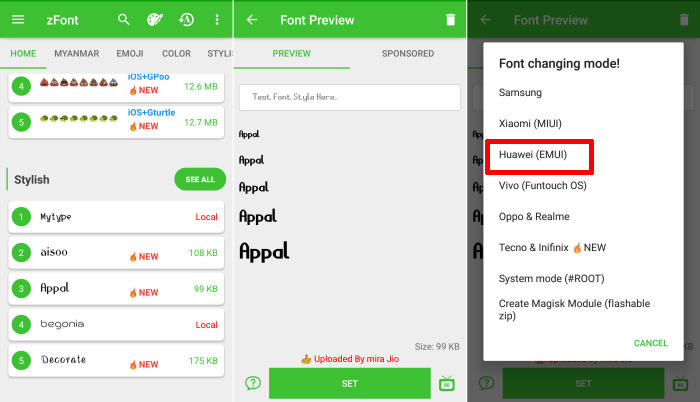 Find and install zFont – Custom Font Installer for Huawei P20 from Google Play Store.
Once the app installed in your Huawei P20, open the app and the interface will give you three menu options; regular font, colored font, and emoji.
Choose Cool to see unique font options and you can choose the one you like. Click Download to download the preferred font. After download completed tap Set button.
Option Font Changing model will pop up and then, choose Huawei (EMUI).
Go to Me/Mine and apply the font style. Once applied, the font will make your Huawei P20 display looks even better
You can now add your favorite font and change it whenever you get bored of it. Do you have a personal favorite font style? just leave a comment below. Enjoy!
This method of changing font styles can also be applied to Huawei Nova Plus. The thing is that you can enjoy your favorite font to make your Huawei P20 looks fresher and interesting to see than the other Huawei.