How To Change Font and Emoji In Huawei P8 Lite (2017)
How To Change Font Style On Huawei P8 Lite 2017 EMUI 5.1 Android 7.0 Nougat – In this article, we will guide you on how to change the font style on your new Huawei P8 Lite 2017 smartphone.
Huawei P8 Lite 2017 runs on the Android 7.0 Nougat-based operating system, namely EMUI 5.1. The Huawei user interface is quite smooth in nature and offers some minimalistic design.
EMUI is a customized UI based on Android to intensify Huawei smartphone users experience. Huawei's theme store is one of the best I have ever seen. With a single tap, you can change the icon design, font style, great themes, lockscreen, wallpapers and more.
How to Change Font And Emoji in Huawei P8 Lite (2017) via zFont App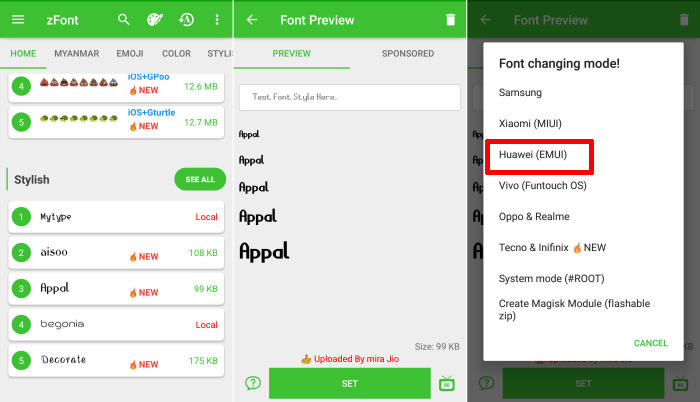 The best application to add custom fonts on the Huawei P8 Lite is zFont. This application is compatible with all Huawei smartphones. The following is a guide to changing fonts using the zFont application.
Find and install zFont – Custom Font Installer for Huawei P8 Lite (2017) from Google Play Store.
Once the app installed in your Huawei P8 Lite, open the app and the interface will give you three menu options; regular font, colored font, and emoji.
Choose Cool to see unique font options and you can choose the one you like. Click Download to download the preferred font. After download completed tap Set button.
Option Font Changing model will pop up and then, choose Huawei (EMUI).
Go to Me/Mine and apply the font style. Once applied, the font will make your phone display looks even better
This method of changing font styles can also be applied to Huawei Nova Plus. The thing is that you can enjoy your favorite font to make your Huawei looks fresher and interesting to see than the other Huawei.
How to Change Font Style in Huawei P8 Lite (2017) via Themes Manager Huawei
By default, the Huawei P8 Lite 2017 comes with a few additional fonts. However, if these in-built system fonts do not fit your style, you can get more from the EMUI Store for free or at a price.
Download and install Themes Manager for Huawei P8 Lite (2017) from Google Play Store.
Open the app and select Fonts, in this option you can find list of fonts compatible with Huawei P8 Lite (2017).
Choose one preferred font and next, click Downloaded! Click to install.
Once the font installed, Go to Me/Mine and apply the font style.
You can now add your favorite font and change it whenever you get bored of it. Facing any issues while trying to change system fonts on the Huawei P8 Lite? do drop a comment and let us know which is your favorite font.
Wrapping Up
The Huawei P8 Lite 2017 is a great smartphone, which is loaded with a lot of strong features. The device comes with Octa-Core (4x 2.1 GHz ARM Cortex A53 + 4x 1.7 GHz ARM Cortex A53) processor, which is provided upon the Huawei HiSilicon Kirin 655 chipset rendering good performance.It also equips an ARM Mali-T830 MP2 to handle gaming and multimedia department.
The smartphone flaunts a 5.2-inch FHD AMOLED display with a pixel density of 424 PPI to offer crystal clear view. The screen is protected by the Corning Gorilla Glass, which will keep the device look new by resisting it to minor scratches.