How To Reset Screen Lock Vivo Y12 / Y12i, Hard And Factory Reset
Reset Vivo Y12 / Y12i – Restoring a device back to its factory settings is a great way to tackle speed and performance issues that have built up on the system over time. If you find your Vivo Y12 is working slower than expected, it may be time to consider a factory reset. So, why not learn how to reset Vivo Y12.
The Vivo Y12 stocks a decent 32GB internal storage which can be expanded to a sizable 512GB. This smartphone is powered by the homegrown Helio P22 with MediaTek processor. The processors are coupled with a PowerVR GE8320 GPU and a sizable 4GB RAM can deliver a blazing fast usage and in-game performance.
The Vivo Y12 flaunts a beautiful 6.35-inch screen with IPS LCD display which exhibits a 720 x 1544 pixels screen resolution. The expansive 19.5:9 aspect ratio and 268 pixel density ensure pleasant media consumption. The IPS LCD panel is protected, sharp and power efficient by Gorilla Glass.
Do you want to make your Vivo Y12 work just like the first time you turned it on after you took it home from the store? If you have noticed that your Vivo Y12's performance seems slower than before, it may be time for your smartphone to undergo some reset.
What Should You Do Before Resetting Your Y12 / Y12i?
Reset will require a minimum battery level of 25%.
Ensure any personal data is backed up. As all your phone's data will be deleted, backing up your entire phone is the smart thing to do.
Please make sure you have the Google account (@gmail email address and password) ready to log back into the Y12 once the reset has completed
It is important to remember to decrypt your microSD card before a Factory Data Reset. The data on your SD card will not be able to be read or decrypted after a reset.
Reset Screen Lock Y12 / Y12i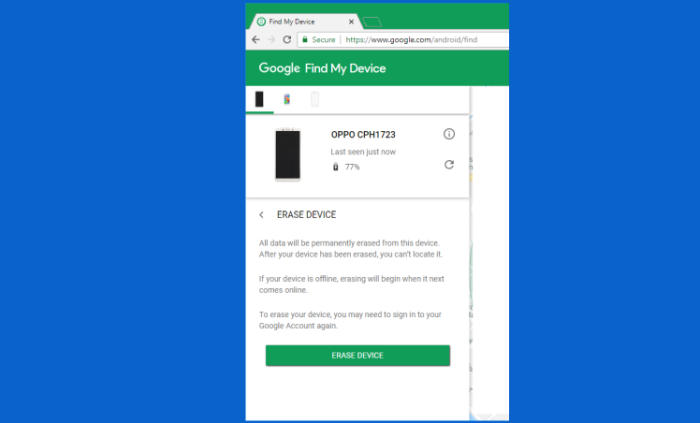 Log into https://www.google.com/android/find with your Google Account ID and password.
Select the Vivo Y12 from the menu on the left.
Select the Erase option from below the device information.
Select the Erase Device button on the popup.
Enter your Google Account password to confirm and send the task to your Vivo Y12.
Hard reset Y12 / Y12i through recovery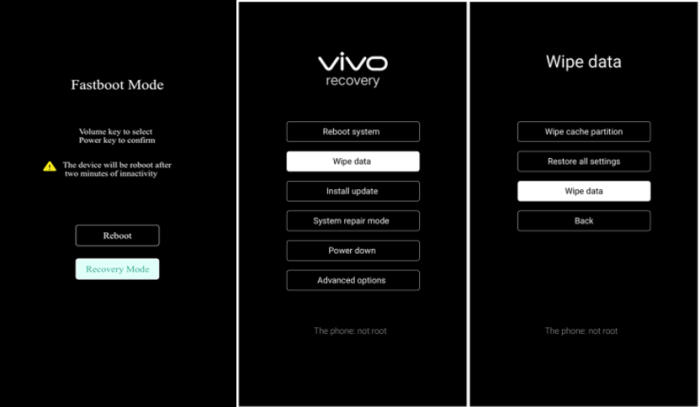 Ensure that the Vivo Y12 is powered off.
Press and hold the "Volume UP" and "Power" keys simultaneously until Vivo logo appears to enter Fastboot mode.
Then in the Fastboot Mode select the "Recovery Mode".
After that, select the "Wipe Data" menu.
Continue by selecting the option "Wipe data".
After that you confirm by tapping the "OK" button.
If the Wipe process is complete "Wiped Successfully" tap the "OK" button.
You can select the option "Reboot system".
Later the Vivo Y12 will restart by itself and wait for the restart to finish in a few minutes.
Factory reset Y12 / Y12i via Settings
Go into the Settings.
Tap More settings.
Tap on Backup & reset.
Tap on Erase all data.
Confirm you understand that all data will be erased by tapping on Format Phone Storage.
Next tap Clear Now.
Your Vivo Y12 will restart and begin the factory data reset.
Bottomline
Vivo Y12 is a decent smartphone in an entry-level budget. It has a good pair of camera that can click excellent images. The phone also provides decent performance due to the presence of a great processor. The battery backup is also excellent for daily use.
Most of the problems that the Vivo Y12 has, although not listed above, can usually be fixed by reset. Check out some tips and tricks such as how to update Vivo Y12 which will be coming soon.