How To Wipe Vivo Y7s Screen Lock, Factory And Hard Reset
You may want to reset Vivo Y7s to its original settings, if it doesn't work properly, it freezes or annoys you with error messages. Today, we're here to tell you how you can factory and hard reset Vivo Y7s.
The Vivo comes with a 6.38inch Super AMOLED display. The density of the screen is 404 PPI and the resolution is 1080 x 2340 pixels which provide a good visual experience.
The device is based on Helio P65 chipset upon which Octa-Core processors are provided with 2×2.0 GHz ARM Cortex A75 + 6×1.95 GHz ARM Cortex A55 clock speed each that make this device a better option in multitasking and gaming. The processor is further assisted by a 6GB RAM and for the graphics part, there is an ARM Mali-G76 3EEMC4 GPU. The whole operation is run by Android 9.0 Pie.
If you're using a Vivo Y7s and some bugs or glitches start occuring on your device, it may be time to restart it to factory settings. This guide will walk you through the process of resetting the phone back to the original Android OS settings.
Before performing a reset, please remove your Google Account and your screen lock. If the Google Account is not removed, the phone will enter the Google Reactivation Lock. Do not forget to backup your phone's data before doing a factory data reset.
Hard reset Vivo Y7s via Recovery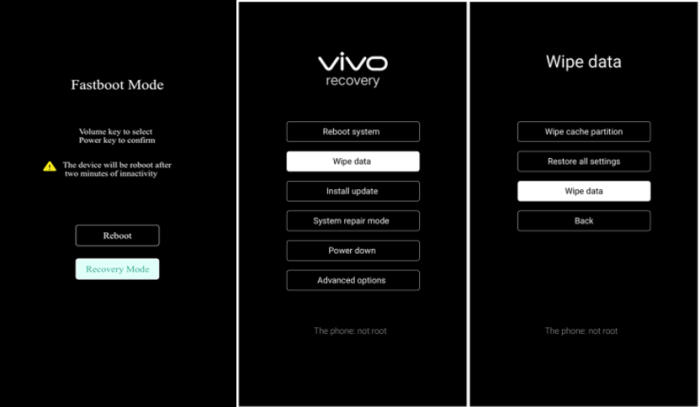 Ensure that the Vivo Y7s is powered off.
Push Volume Up and Power button for a couple of seconds.
Let go of all keys when Vivo Recovery Mode shows up.
Select Recovery mode by pressing Volume down button and enter it by pressing Power button.
Choose Wipe data.
Select Wipe data from the menu. Select the OK option.
Finally, choose Reboot system.
Factory reset Vivo Y7s from Settings
Go to the Home screen and choose Settings.
Scroll down and choose More settings.
Choose Backup & reset.
Choose Erase all data.
Checklist Format phone storage.
Tap Clear Now.
All data and settings saved on the phone will be deleted.
The Vivo Y7s will automatically reset and reboot.
Reset Screen Lock Vivo Y7s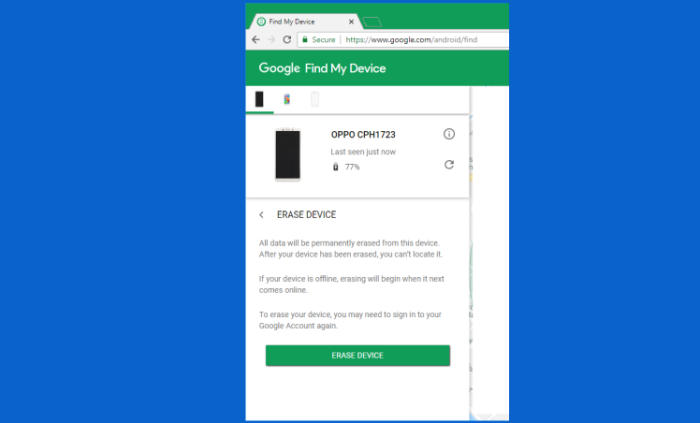 Log into https://www.google.com/android/find with your Google Account ID and password.
Select the Vivo Y7s from the menu on the left.
Select the Erase option from below the device information.
Select the Erase Device button on the popup.
Enter your Google Account password to confirm and send the task to your Vivo Y7s.
Bottomline
The Vivo Y7s is a power-packed smartphone, which comes with a mid-range price tag. The magnificent cameras, huge storage, quick charging and a splendid display make the phone one of the best options. You can save unforgettable memories on your smartphone by recording or capturing them. The phone has a great configuration that provides a great performance and makes it a gaming beast.
Fortunately, there aren't many Vivo Y7s specific problems. Some of the problems that the phone has are more than troublesome, but fortunately can be fixed at most in a few minutes. Every problem has a solution, no matter how complex. See you in the next article about how to lock apps in Vivo Y7s.