How To Wipe Vivo Y91C Screen Lock, Factory And Hard Reset
There are many reasons you'll want to reset your Vivo Y91C, and there are many different methods to do so. Here you will learn about four different levels to reset your Vivo Y91C.
The Vivo Y91C is powered by an Octa-Core processor setup Cortex A53 seated on Helio P22 along with a 2GB RAM. The graphics are powered by PowerVR GE8320. It runs on the latest version of Android operating system Android 8.1 Oreo.
The Vivo Y91C has a stunning IPS LCD bezel-less display with a notch over the 6.22 Inch screen. The phone has got an amazing resolution of 720 x 1520 pixels with a density of 270 PPI. The Vivo Y91C is provided with 4030 mAh Li-ion battery, which gives a decent battery backup to the users to perform all the tasks.
Before you can even begin to think about giving your Vivo Y91C to someone else, you need to take some time to wipe and reset it to factory settings. Doing so will ensure that nobody has access to the treasure trove of personal information we all keep on our phones. This also works if your Vivo Y91C randomly shuts off and won't turn back on.
Performing a hard and factory reset will wipe all data like your messages, files, call log, contacts stored on the internal storage and all 3rd-party apps and app updates.
Hard reset Vivo Y91C from Recovery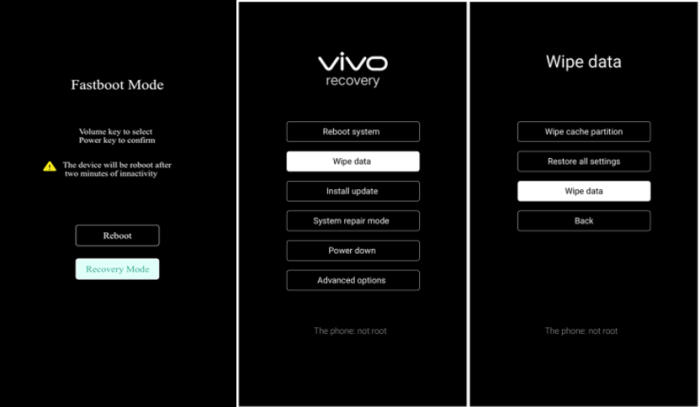 Shut down your Vivo Y91C completely by pressing the Power button.
Simultaneously press and hold the Volume UP and Power buttons until the device vibrates and the Vivo Recovery screen appears then release all buttons.
Select Recovery mode by pressing Volume down button and enter it by pressing Power button.
From the Vivo Recovery screen, select Wipe data.
Touch Wipe data and then confirm by clicking OK.
The reset will commence and once it's finished, tap Reboot system.
Wait for your phone to finish rebooting and then set up your Vivo Y91C as a new device.
Factory reset Vivo Y91C
In the Home screen tap Settings.
In the Settings screen, tap More settings.
In the More settings screen, tap Backup & reset.
In the Backup & reset screen, tap Erase all data.
At the bottom of the screen tap the Format Phone Storage option.
Finally click Clear Now.
After your Vivo Y91C reset, you see the Welcome screen and you can set up your phone.
Reset Screen Lock Vivo Y91C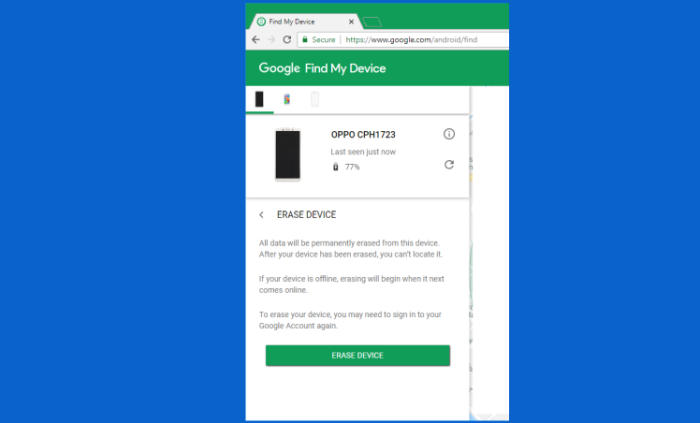 Log into https://www.google.com/android/find with your Google Account ID and password.
Select the Vivo Y91C from the menu on the left.
Select the Erase option from below the device information.
Select the Erase Device button on the popup.
Enter your Google Account password to confirm and send the task to your Vivo Y91C.
Wrapping Up
The device completely justifies its hefty price by giving you a premium service. The mammoth camera specifications will surely impress you with its unparallel image productivity. Lastly a good battery and wide arrayed connectivity sets the perfect motion inside.
Just like always, if you have suggestions, questions or concerns, feel free to type them out in the comment section. See you in the next article about bypass factory reset protection on Vivo Y91C.