How To Reset Redmi 4 Prime, Redmi 4 Pro, Redmi 4X, Redmi 4A To Factory Settings
All XIAOMI phones have a reset feature which returns the device to its original state by deleting all data stored on the Redmi 4 series. In this tutorial, we'll see how to hard and factory 4 Prime, Redmi 4 Pro, Redmi 4X, Redmi 4A.
The Redmi 4 Prime flaunts a large 5 inches IPS LCD display with a pixel density of 441 PPI that results in a resolution of 1080 x 1920 pixels. The smartphone features a dual (13MP) rear camera setup with PDAF and a 5MP front-facing camera for selfie lovers.
The smartphone is powered by Cortex A53 processors embedded on the Snapdragon 625 MSM8953 chipset. The processor is paired with 3GB of RAM to ensure that the phone runs smoothly with multiple applications open simultaneously. All the graphical requirements are fulfilled by an Adreno 506 chipset. The phone runs on the Android 6.0.1 Marshmallow operating system.
Three Easy Ways to Reset Redmi 4 Prime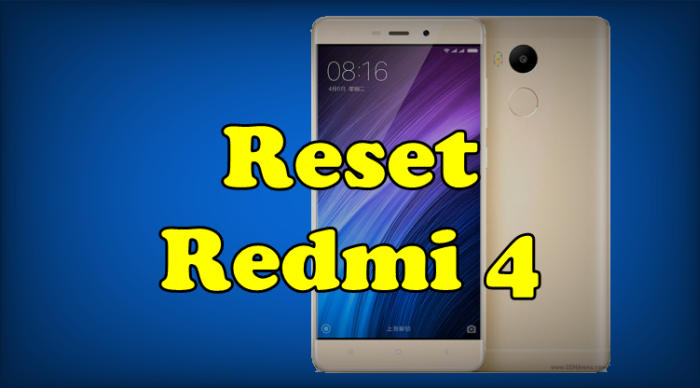 The Redmi 4 Prime is a relatively new Android smartphone and has excellent software and hardware features. Whether you are facing bugs after updating your Xiaomi Redmi 4 Prime or seeing random glitches on your phone, you can solve the most common problems by resetting your phone.
Performing a reset will permanently delete all user data on the smartphone. Be sure to back up your data before performing a Factory or Hard Reset. If you want to reset your phone to factory default settings, ensure that you know your Google account login credentials as you will need it to log in once you have reset your device.
Factory Reset Redmi 4 Prime
In the Home screen tap Settings.
In the Settings screen, tap Additional settings.
In the Additional settings screen, tap Backup & reset.
In the Backup & reset screen, tap Erase all data (factory reset).
At the bottom of the screen tap the Reset phone option.
After your Redmi 4 Prime reset, you see the Welcome screen and you can set up your device.
Reset Screen Lock Redmi 4 Prime
Open Find My Device and then log in with your Google Account and password.
Select the Redmi 4 Prime from the top left hand corner of the menu.
Choose the Erase Data option from the action menu.
Select Erase Device to confirm.
Enter your Google Account password to reset the Redmi 4 Prime.
Hard Reset Redmi 4 Prime
Shut down your Redmi 4 Prime completely by pressing the Power button.
Press and hold the Volume Up and Power buttons at the same time on your Xiaomi Redmi 4 Prime.
Release the all buttons when the phone vibrates.
In recovery use the Volume Up and Volume Down buttons in order to scroll up and down and the Power key to select.
From recovery, after selecting Wipe data on the hard reset process, choose Wipe All Data.
Then you select Confirm if you are sure to reset data.
Select reboot system now.
Bottomline
The Redmi 4 Prime is a premium smartphone with great features. This includes the outstanding pair of cameras as well. The AI-enabled front camera makes it a selfie expert in the true sense. The processor is strong enough to handle a number of functions..
Despite the Redmi 4 Prime problems, it's still a great smartphone that's an easy purchase if you have the option and opportunity. Every common issue that the smartphone has is easy to fix, even if some of the fixes take time.
If your Redmi 4 Prime has had any of these problems, hopefully, your smartphone is now performing exactly as it's intended.