Oppo
Oppo A3s Google Camera Port (Gcam APK) Latest Version
The Oppo A3s sports a 6.2-inch HD+ display with 720 x 1520 resolution and on the back there are two 13MP + 2MP main cameras and on the front there is an 8MP selfie camera.
In terms of performance, Oppo equips it with a Snapdragon 450 chip with 2GBB RAM, octa-core CPU, and Adreno 506 GPU. So, we can use this smartphone for light activities such as sharing photos on Instagram and watching videos on Youtube.
With the price offered, the screen of this phone is quite good. The color display is quite neutral and looks okay, but the viewing angle is not good.
How do the photos turn out? Definitely not good enough if you want to get pictures like a professional. The photos have a lot of noise even in daylight and indoor photos will look dark or even not visible at all.
But this is in keeping with the price it offers. We can't expect a phone at this price to have a good camera. The camera is just there to capture some social media highlights.
One way to improve photos in some lighting conditions is to use Google's camera port, known as Gcam.
What is Google Camera Port (Gcam)?
Google Camera is an app developed by Google to maximize the camera of their Pixel devices. Installing Gcam on Oppo has a number of benefits, including improved image quality, more advanced features and a more intuitive user interface.
The app offers a number of features not available on Oppo's stock camera app. One of the most notable features is the Night Sight mode, which allows us to take pictures in low light conditions without the need for a led flash.
This night mode uses artificial intelligence to improve photo quality in low light conditions, resulting in brighter and more detailed images. Gcam also offers a number of other features, such as Portrait mode, slow-motion video recording and HDR+ mode.
Download Google Camera Port Oppo A3s
Gcam is one of the best apps for improving camera performance on Oppo. This step-by-step guide will help you install the Google Camera Port app on your Android smartphone quickly and easily.
The first step you have to prepare is a Gcam application that is compatible with Oppo A3s. Here there are 2 applications that are supported and popularly used by Android users.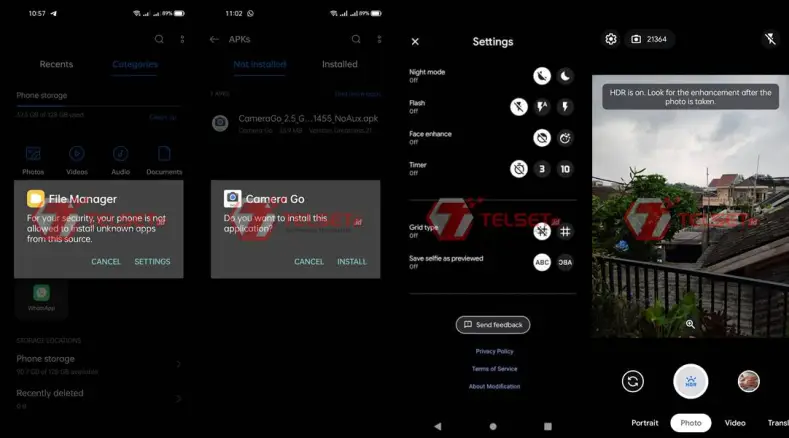 Gcam Shamim
Gcam shamim application is more feature complete when compared to Gcam Greatness. Features like Night Mode, Translate, Portrait, HDR, Multi-lens you can use on phones that support Camera2API.
Gcam Greatness
Gcam greatness is presented for Android phone users with specifications under 2GB RAM. Although its features are not as complete as Gcam LMC, it is enough to fulfill the need for photography through smarphone.
How to Install GCam on Oppo A3s
Installing Gcam on Oppo A3s will noticeably improve image quality. This app uses Google's advanced image processing algorithms to improve photo and video quality. This means you can take sharper and more detailed photos and videos with your Oppo phone.
Here are the steps to install Gcam on Oppo A3s:
Turn on Oppo A3s then open Home Screen.
Open the File Manager application.
Select Internal storage.
Open the Downloads folder and click the Gcam APK file.
If there is an install notification from an unknown source, select Settings then enable Allow from this source.
Continue installing again and wait for the installation process to complete.
Conclusion After Using Gcam
The Google Camera Port or GCam app offers a more intuitive user interface than Oppo's stock camera app. This application has a simple layout and is easy to navigate, making it easier to find the features we need.
Gcam also offers a variety of settings and customization options, so we can change the camera settings as we wish.
Overall, installing the Gcam app on the Oppo A3s offers a number of benefits, including improved image quality, more advanced features and a more intuitive user interface.
In conclusion, if you want to get the most out of the Oppo camera, then the Google Camera app is a must-have.