Oppo
Oppo A95 Google Camera Port (GCam) Latest Version
The Oppo A95 sports a triple camera setup on the back with a 48MP main sensor with f/1.7 aperture, 2MP macro and depth sensor with f/2.4 aperture.
The camera app on the Oppo A95 has some features present on most Oppo phones. We will find AI features such as Night Mode, Pro, Panorama, Time lapse, Slow motion, Text scanner, Google Lens, and others.
By default, the Oppo A95 camera captures 48MP and 12MP images using pixel binning and the photos shot are nothing special, average for a mid-to-low-end smartphone.
As for the front camera, it's decent, not great and not bad either. It can record at speeds up to 1080p 30 fps. The dynamic range is balanced with good color and contrast.
You can get better pictures by taking photos using Google Camera. However, there are certain conditions where Oppo's built-in camera is still better. It doesn't matter if it makes a complement to cover some of the weaknesses of the stock camera.
Download Google Camera Port For Oppo A95
Oppo A95 uses a Snapdragon chipset, so almost all versions of Gcam can be installed on this phone. Even so, friends should also understand this is a ported application which is certainly not as good as the original Google Camera on Pixel smartphones.
There are tons of Google Camera Port versions shared on XDA and GCAM Hub, but here we only share a few of them which we think are better.
GCAM LMC Oppo A95
GCAM Nikita Oppo A95
GCAM BSG v8.1
How to Install Google Camera on Oppo A95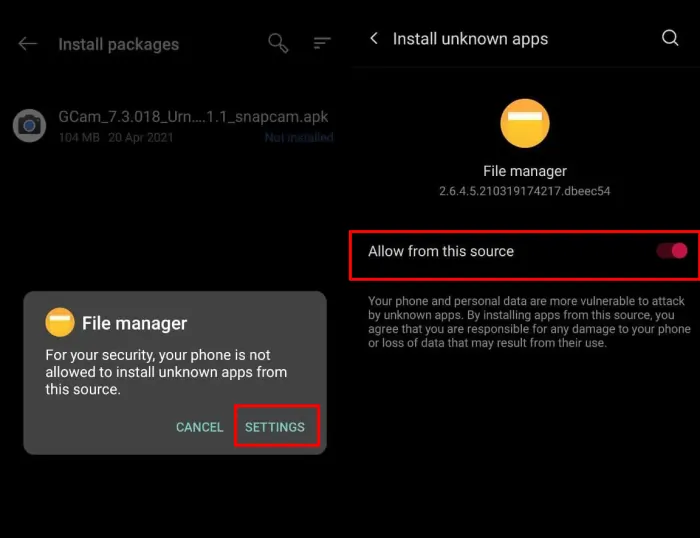 If you've finished downloading, the next step is to install it. Here's how if you don't know the steps.
Go to the ColorOS Home screen and after that open File Manager app.
Select Internal Storage and then scroll down and tap Downloads folder.
Now click the Gcam APK file that you downloaded earlier.
Tap Settings if a popup appears and then enable Allow from this source.
Click the Install button to continue the installation process.
Once done, launch Google Camera.
Now it's time for you to try taking pictures in various conditions using this Google Camera port with built-in features such as Night Mode, Astrophotography, HDR Plus, and so on.
You can also compare the photos with Oppo's built-in camera. If it's not optimal, try using the config file.
How to Install Configs in Gcam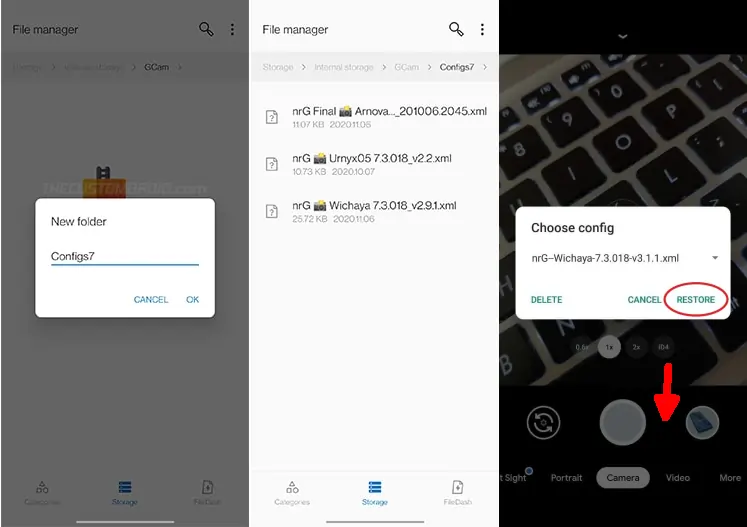 You first need to download the gcam config file above, which stores the recommended settings.
Once the config is downloaded, create a new folder called GCam in the internal storage and then open the GCam folder and then create the Configs8 folder or configs7 if using gcam nikita.
Then, copy and paste file config xml file that you have downloaded to the Configs8 folder.
Open Gcam then double-tap on the empty area below the shutter button.
Select config then tap Restore.
Note: If you are using Gcam LMC, create a folder in the internal storage with the name LMC8.4
That's how to download and install Google camera on Oppo A95. Hopefully the camera app we shared will produce better photos than Oppo's stock camera.