Samsung
Download GCAM For Samsung M21 (Google Camera)
The Samsung M21 camera app is very limited in some features and doesn't always produce the best image quality. Gcam can be a good alternative to the phone's camera.
The Samsung Galaxy M21 is equipped with triple main camera modules, a 48Mp, f/2.0 lens with PDAF. The second camera has a 8MP wide-angle lens. And then there's the 8-megapixel, f/2.0 front camera.
The main module can display quite good images with the right level of light around it. Details are not too blurry, color rendition is natural and without any beautifying effects. Videos can be recorded up to Full HD and 30 FPS.
The camera app contains the necessary set of shooting modes, including manual ones. However, in it, you cannot adjust the shutter speed and focus. In the settings, you can enable automatic HDR or add a watermark to photos in the lower left corner.
In dark conditions or at night, we cannot rely on the Samsung M21 built-in camera app because there is a lot of noise and it still looks dark. You can use the night sight feature of the Google camera app to get clearer images at night.
What is Google Camera?
Google camera is an android app developed by Google that helps to improve the phone camera and produce better image quality. The app has many features and helps to remove the limitations of the phone camera and most people know that GCAM is what it stands for.
Built with advanced technology, this app is capable of producing the best image quality that cannot be obtained on the built-in camera. Gcam is equipped with AI technology to give users the ability to take pictures that could previously only be captured by high-end cameras.
The Top Shot feature can take a dozen or more images in quick succession, then use AI software to align and merge them into a single image that is free of any blurring from camera shake.
AI technology is also applied to the Night Sight feature, where photos taken in very low light appear bright, sharp and detailed.
Download Gcam Samsung M21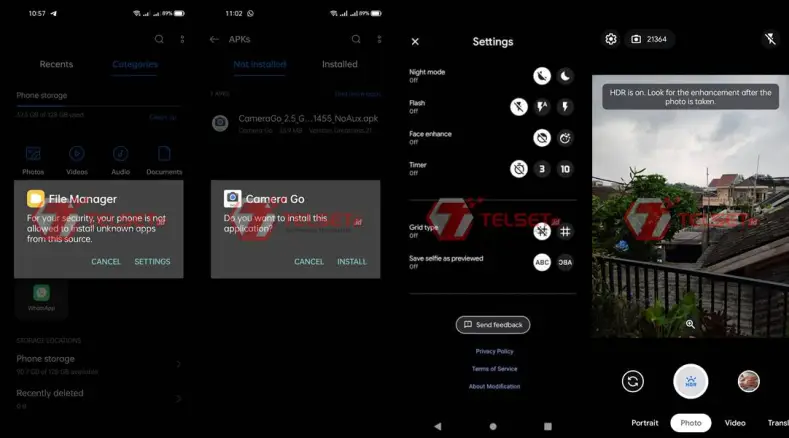 If you want to try out the capabilities of Google Camera, all you need to prepare is to get a Gcam application that is compatible with your Android phone.
Gcam v.2.5 Greatness
GCAM v.3.6 Shamim
How to Install Gcam in Samsung Galaxy M21
If you are curious about the AI capabilities of Google Camera, download and install the Gcam apk file that we share below:
Download the GCAM that we have shared above first.
After that, run the My Files app or other File Manager.
Next, open the Download folder then click the GCAM.apk file.
Make sure you have enabled Allow from this Source in the Settings menu.
Once successfully installed, open the Google Camera app and allow all requested permissions.
Now you can utilize the AI technology in Google Camera to make your photos look great. Many professional photographers are now using this app on their phones. The AI camera will dramatically improve their images, regardless of the situation.
These are the steps to download and install Google Camera on Samsung M21 without root. You can simply install the Shamin version of Gcam that we have shared above.