How To Change Font and Emoji In Oppo A5 Without Rooting
In this article, we will guide you on how to change the font style on your new Oppo A5 smartphone. By switching to a custom font of your choice, you can change the look and feel of your smartphone significantly.
The Oppo A5 is powered by a Qualcomm Snapdragon 450 chip that can provide great performance, with an Octa-Core processor running at a speed of 1.8 GHz. There is an Adreno 506 GPU with an 4GB RAM, which can provide nice graphics with lag-free multitasking.
The Oppo A5 flaunts a 6.2-inch HD+ AMOLED display with a pixel density of 271 PPI that can give a nice viewing experience. The screen is protected by the Corning Gorilla Glass, which will keep the device look new by resisting it to minor scratches.
The phone ships with Android 8.1 Oreo which is layered with ColorOS 5.1. The company has improved some features of the user interface and it now looks quite fast and smooth as compared to its predecessor.
Two Ways to Change Font Style On Oppo A5 ColorOS 5.1 Android 8.1 Oreo
ColorOS is developed by Oppo, one of the largest smartphone makers in terms of shipped units, and powers its Android smartphones. The UI offers a higher degree of personalization in tow with the experience because there are various themes to choose from that change the looks of the interface.
Many Oppo users want to change their device font, but they can't find any option in the theme setting. Actually, the font setting is disabled from the inner code. If you have a Oppo A5 device run on ColorOS 5.1 based on Android 8.1 Oreo and cannot find font change setting in the customization menu of the system theme manager.
1.Change with zFont App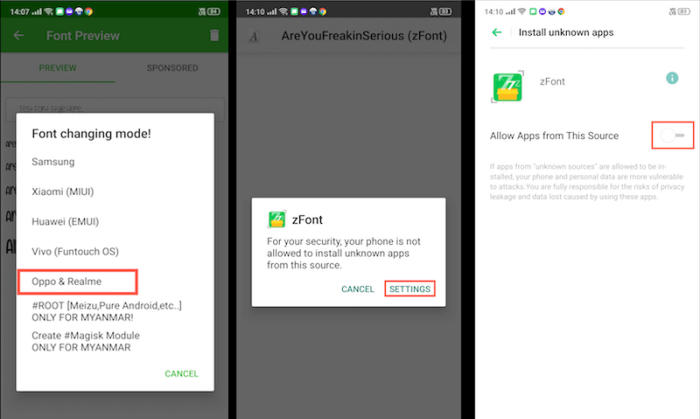 Download and Install zFont – Custom Font Installer for Oppo A5 from Google Play Store.
Once the App installed in your Oppo A5, open zFont app. On the interface, you'll find menu options for regular font, colored font, and emoji.
Now, choose Cool to display different unique font options. Choose your preferred font and click Download. The custom font will start to download. Once download completed, ta Set button.
Next, the option Font Changing model will pop up. Choose OPPO & Realme. This message will pop up "Notice! Do you want install font?" and you can click Install.
Once the font installed, you will be presented with options as seen on this image above. Click on Change Region and choose Myanmar.
Next, click Change Font and activate option Support dai character on the setting.
Or check on Theme Store. You should now have new fonts on your Oppo A5 to choose from.
2.Change with OFonts
Download OFonts APK and APK Editor. Next step, install both apps in your Oppo A5.
Log on www.dafont.com and you can download your preferred font there.
Once installed, change the Region setting. Open Setting and choose Language and Region menu. Change region setting to Myanmar and set the time based on the current local time.
Open APK Editor app and choose "Select Apk From App". Next, find OFont Indonesia
Choose "Simple Edit (FILE REPLACEMENT)" choose folder "Assets" and choose "Fonts".
Tap Menu "Edit" and open download folder to choose your downloaded font. Next choose menu "Save". The font file will be extracted
Once the font fully extracted, open menu Setting and choose Application Management.
Choose ApplicationOPPO Fonts and click Erase Application and once again, open APK Editor.
Install OFont Indonesia app and choose Setting – Display and Brightness and activate Support Dai Character.
That's it. You are done. Now enjoy your customized font on your Oppo A5.
Wrapping UP
You no longer have to put up with that boring font anymore. If you do end up switching fonts on your Oppo A5, Drop a comment and let us know!
This method of changing font styles can also be applied to How to Change Android Emoji to Iphone IOS 14.5 Exclusively for Oppo and Realme. The thing is that you can enjoy your favorite font to make your Oppo A5 looks fresher and interesting to see than the other Oppo.