How To Change Fonts and Emoji In Realme 1 Easiest
Realme has always offered a lot of customization options, and by changing the system font on the Realme 1 your phone can have a fresh new look and stand out.
The Realme 1 comes with an Octa-Core processor having a clock speed of 2 GHz. It is seated upon the MediaTek Helio P60 MT6771 chipset and is further assisted by the ARM Mali G72 MP3 700MHz GPU, and a 3GB RAM. It can provide good performance while gaming and multitasking.
The Realme 1 comes with a 6-inch FHD+ LCD IPS display. It has a high display resolution of 1080 x 2160 pixels with sharp pixel density of 402 PPI that can give a nice viewing experience. Following the trendy 18:9 ration, it will utilize maximum screen space making it look more admirable.
The Realme 1 runs on Android 8.0 Oreo, which is based on ColorOS 5.0. The UI is beautifully designed unlike the stock Android OS its has colorful designs and layouts.
Changing Fonts for Realme 1 via zFont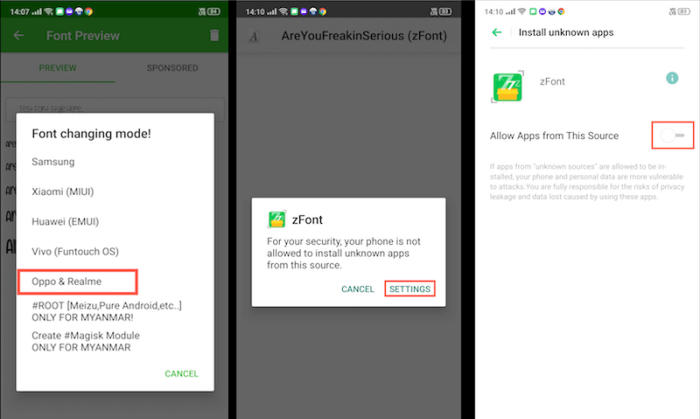 Download and Install zFont – Custom Font Installer for Realme 1 from Google Play Store.
Once the App installed in your Realme 1, open zFont app.
On the interface, you'll find menu options for regular font, colored font, and emoji.
Now, choose Cool to display different unique font options.
Choose your preferred font and click Download. The custom font will start to download. Once download completed, ta Set button.
Next, the option Font Changing model will pop up. Choose OPPO & Realme.
This message will pop up "Notice! Do you want install font?" and you can click Install.
Once the font installed, you will be presented with options as seen on this image above.
Click on Change Region and choose Myanmar.
Next, click Change Font and activate option Support dai character on the setting.
You should now have new fonts on your Realme 1 to choose from.
Conclusion
Now that you know how to change the default font in Realme 1, you can go ahead and start experimenting with different fonts. Wasn't it very simple? Should you still have any question or doubt, We'd love to hear all about them. Share it with us in the comments section below!
This method of changing font styles can also be applied to Realme U1. The thing is that you can enjoy your favorite font to make your Realme 1 looks fresher and interesting to see than the other Realme.