How To Change Font and Emoji In Realme 5 Make It Cool
How To Change Font Style On Realme 5 ColorOS 6.0 Android 9.0 – If your looking for how to change text message background on Realme 5 your in the right place.
The Realme 5 is powered by a Qualcomm Snapdragon 665 chip that can provide great performance, with an Octa-Core processor running at a speed of 2 GHz. There is an Adreno 610 that handles the graphics of the device while the massive 3GB RAM looks after the gaming and multitasking.
The Realme 5 comes with a 6.5-inch HD+ LCD IPS display having a screen resolution of 720 x 1600 pixels and a density of 270 ppi that will give great pleasure to the eyes while watching videos and playing games. It renders a good viewing experience with the 20:9 that adds style to it. There is a Corning Gorilla Glass protection as well.
ColorOS is developed by Realme, one of the largest smartphone makers in terms of shipped units, and powers its Android smartphones. This UI has a unique identity according to the other UI's because of the unique icon design, font style, great themes, lockscreen, wallpapers and many more.
Change Font with zFont App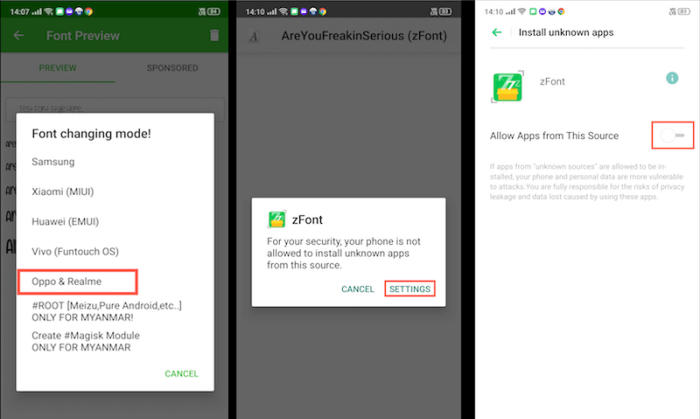 By default, the Realme 5 comes with a few additional fonts. However, if these in-built system fonts do not fit your style, you can get more from the ColorOS Store for free or at a price.
Find and install zFont custom font installer app for Realme 5 from Google Play Store.
Once the App installed in your Realme 5, open zFont app. On the interface, you'll find menu options for regular font, colored font, and emoji.
Now, choose Cool to display different unique font options. Choose your preferred font and click Download. The custom font will start to download. Once download completed, ta Set button.
Next, the option Font Changing model will pop up. Choose OPPO & Realme. This message will pop up "Notice! Do you want install font?" and you can click Install.
Once the font installed, you will be presented with options as seen on this image above. Click on Change Region and choose Myanmar. Next, click Change Font and activate option Support dai character on the setting.
You should now have new fonts on your Realme 5 to choose from.
Change Font Style Using the Imod Pro App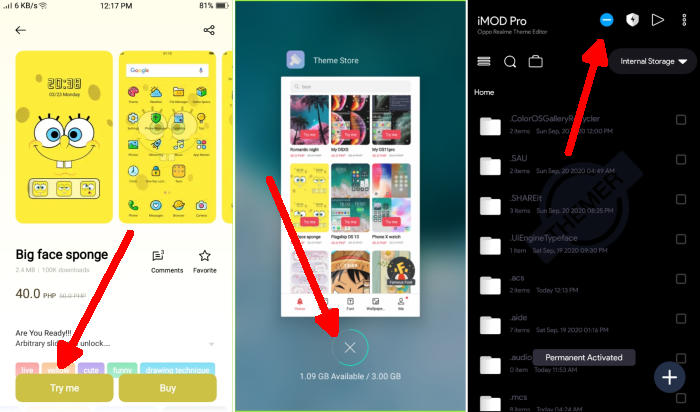 Download the iMod Pro application.
Install the application on an Oppo or Realme.
Open the Theme Store, then choose any paid theme or font.
After that, apply the trial.
Close the Theme Store through the recent app.
Next open iMod Pro and tap the round blue icon at the top.
Conclusion
Realme 5 runs on the Android 9.0-based operating system, namely ColorOS 6.0. The UI is now more minimalistic in nature and looks refined as compared to its previous versions.
This method of changing font styles can also be applied to How to Change Android Emoji to Iphone IOS 14.5 Exclusively for Oppo and Realme. The thing is that you can enjoy your favorite font to make your Realme 5 looks fresher and interesting to see than the other Realme.
We hope you enjoy your new found ability to change the font style and emoji on your font in Realme 5. Which font do you like using on your Realme 5? Let us know in the comments below!