How To Change Font & Emoji In Samsung Galaxy A6 / A6+ Plus
"Methods to Customize Font Style On Samsung Galaxy A6 / Plus" – Change the font in Samsung seems complicated to do. Nowadays, you can find the instructions to change the font to your favorite font easily on Samsung Galaxy A6+.
The Samsung Galaxy A6 Plus (2018) comes with the Qualcomm Snapdragon 450 SoC Octa-Core processor that runs at a speed of 1.8 GHz, which can render a great performance together. Along with it, the device contains a 3GB RAM to make sure that it can handle heavy multitasking. All the graphical requirements of the mobile are answered by an Adreno 506 GPU.
The phone flaunts a 6-inch (1080 x 2220 pixels) FHD+ Super Amoled display with 411 ppi as pixel density. The display is protected from scratches by a Corning Gorilla glass.
For capturing excellent pictures, the Samsung A6 Plus has a dual camera setup at the back consisting of a 16 MP + 5 MP. The lens can capture images high resolution and shoot high definition videos. At the front, a 24 MP lens is present that helps to click beautiful selfies.
Two Methods Changing Font Style of Samsung A6 / A6+ Phones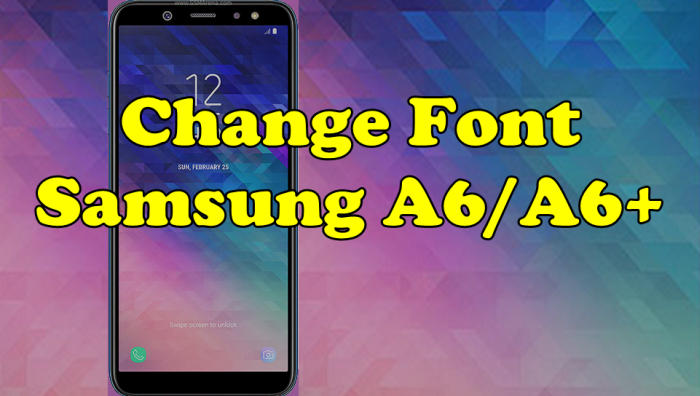 The Samsung A6 / A6+ based Android 8.0 Oreo OS comes preloaded on the device. Samsung Experience 9.5 is one of the most customizable Android skins out there.
Not a lot of manufacturers give the freedom to their users to freely customize the look and feel of their device. Users can customize the wallpapers, lock screen style, background colors, and finally the icons.
Many Samsung users want to change their device font, but they can't find any option in the theme setting. Actually, the font setting is disabled from the inner code.
If you have a Samsung Galaxy A6 Plus (2018) device run on Samsung Experience 9.5 based on Nougat or Oreo and cannot find font change setting in the customization menu of the system theme manager.
1. Change Font And Emoji via zFont App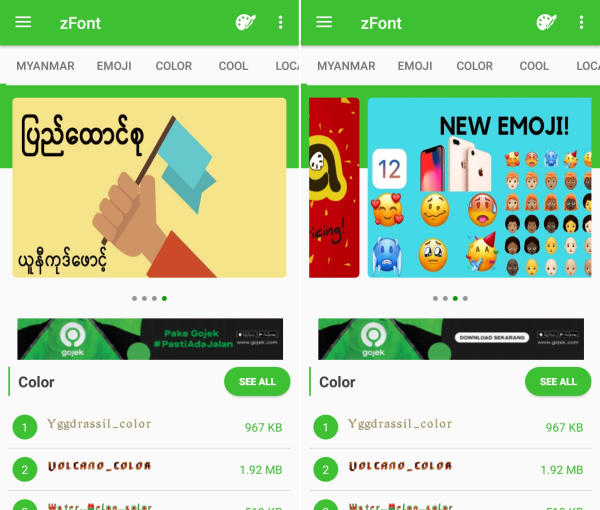 The easiest way to change the font style on the Samsung A6 is by using an application called zFont. This application you can use on all Samsung phones based on Android Nougat and Oreo.
Download and Install zFont – Custom Font Installer for Samsung Galaxy A6+ from Google Play Store.
Open the installed zFont app and on the interface you will be presented with menu to choose regular font, colored font, and emoji.
Click "Cool" to choose from different unique fonts and click "Download" once you choose one font.
Tap "Set" after download completed.
Wait for "Font Changing model" option to appear and choose "Samsung".
On "Choose your Android version" option, choose the current version of operation system.
Now, the Samsung Galaxy A6+ display will look more attractive with a new font style.
2. Change Font Style via GxFonts App
GxFont is an alternative application that you can use to change the font style on this Samsung smartphone.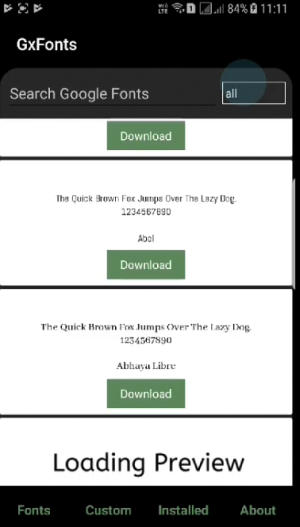 Download and install GxFonts – Custom fonts for Samsung Galaxy A6+ from Google Play Store.
Open the app and on welcome menu you can find list of fonts compatible with Samsung Galaxy A6+.
Choose one preferred font by clicking "Download".
Once the font installed, activate "Unknown Source" in menu "Settings" – "Lockscreen and Security".
Next, open "Setting" – "Display" – "Screen Zoom and font".
Your preferred font is already added in Font Style.
Choose the font and click "Apply" at upper right side.
Conclusion
If you want your Samsung A6/Plus phones to look more attractive with a variety of unique fonts, please apply this tutorial.
Now that you know how to change the default font in Samsung Galaxy A6+, you can go ahead and start experimenting with different fonts. Wasn't it very simple? Should you still have any question or doubt, Share your experience in the discussion thread below.
This method of changing font styles can also be applied to Samsung Galaxy J2 (2018). The thing is that you can enjoy your favorite font to make your Samsung Galaxy A6+ looks fresher and interesting to see than the other Samsung.