How to Screenshot on Vivo Y22, Quickly and Easily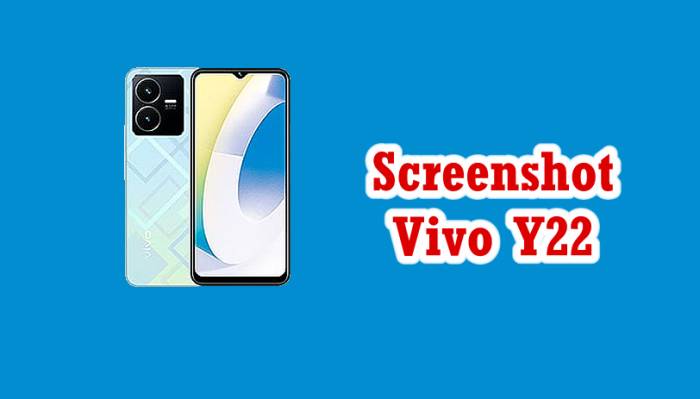 In the Vivo Y22 phone, the screenshot function is made easier by Vivo. You can do screenshots with just three fingers, swipe the screen to some using gestures.
Officially released in early September 2022, Vivo Y22 became one of the most hunted smartphones in online stores. Although the price is affordable, don't underestimate the specifications, because the battery has a capacity of 5000 mAh combined with the MediaTek Helio G85 processor.
The camera module also carries the concept of a triple camera with a resolution of 50MP and 2MP. Meanwhile, on the front there is an 8MP resolution selfie camera which is fairly standard.
One interesting thing about this phone is that you will find several screenshot features. There are various procedures for taking screenshots on Vivo Y22 without utilizing third-party screenshot apps.
How to Screenshot on Vivo Y22
How to take screenshots on Vivo Y22 may still be a lot of wondering by some new users of Vivo phones. With several reasons such as new users may not be able to do screenshots.
Even though it is very easy to be able to do screenshots in Vivo, for more details please refer to this tutorial.
3-Finger Screenshot
This feature is quite convenient for users because it can speed up when making screenshots rather than using buttons. Therefore, I will share information on how to use three-finger screenshots on Vivo Y22 for users who still don't understand how to do it.
Open the Settings app on Vivo Y22.
Find and tap Shortcuts and Accessibility.
Then tap S-capture and then enable the Slide down with three fingers to take a screenshot option.
Also enable the Floating Window Screenshot option.
Prepare the page you want to screenshot.
To take a screenshot, swipe the screen from top to bottom with your 3 fingers.
You can crop the screenshot results
Screenshot via Shortcut Center
The exciting features of the Shortcut Center allow Vivo Y22 users to take screenshots and record the screen. Simply swipe the screen up and tap the S-Capture icon.
Select the area you want to capture.
Next, you can open the Shortcut Center by swiping the screen from bottom to top.
Now tap the S-Capture icon.
Please select one of the screenshot models, starting from Rectangular, Funny or Long.
If you have finished making a screenshot, the last step is to tap the Save button at the bottom.
Long Screenshot
If you intend to make a screenshot of a long Whatsapp conversation or several posts on Facebook. Please follow how to take long screenshots on Vivo Y22 below.
Select the area or application you want to take a long screenshot of.
Swipe the screen with three fingers to take a regular screenshot.
In a few seconds a screenshot image will appear, then tap Long Screenshot so that the screenshot can be long.
Then Drag the preview image until it is stuck. You can tap Save when the page length is enough.
Screenshot Using Keys
When compared to other methods, this method is more practical because it is not complicated. Make sure to follow the instructions below, so that you can successfully screenshot using the smartphone button.
Determine the area you are going to screenshot.
Then press the Volume Down and Power button combination together.
Next you will see the screenshot image and Share option.
Of the three ways, you can choose which method is the easiest and you can practice on Vivo HP. Don't forget to update the android system regularly to get updates that may also contain new screenshot methods.
That's the guide from APKShort this time on how to screenshot Vivo Y22. Also check out other interesting tips that you can follow such as How to Video Call Whatsapp Using Filters which may be useful later for you Vivo phone users.